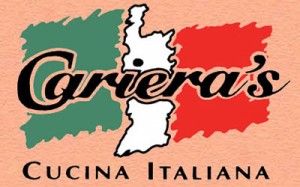 Carieras Cucina Italiana located in Dearborn Heights, Michigan has been family owned since 1992.  In 1998, Tony Cariera married his fiance Cathy and like most of their family, they have been operating in the restaurant business ever since.
Cathy spent 15 yrs in europe, on the island of Malta where her family is from.  Malta is only 60 miles south of Sicily, which just happens to be where Tony's family originated. With Cathy's european hospitality in the dining room and Tony's Italian family recipes, it was a natural match made in heaven when they decided to purchase the complete interest of Carieras Cucina Italiana from their family in 2006.
After taking sole ownership they added a 28 seat open air outdoor cafe, incorporated a delivery service, and added the ability to accommodate up to 100 person private parties. Cariera's specializes in making their customers feel welcome with friendly service while cooking up great Italian dishes. Carieras staff is always willing to go the extra mile in ensuring that their customers are completely satisfied.
Cariera's differentiates itself from the large italian chain restaurants by making every item on the menu fresh daily. Tony personally makes fresh italian bread on the weekend with his great grandmothers 100 year old recipe. This is a must-try item at Cariera's. Tony and Cathy have worked hard to combine a sense of family with great food and service. Customers will tell you that you will walk into Cariera's as a guest but leave feeling like part of the family.  Come break bread with the Cariera family, you won't be disappointed.